Whimsical post.
Last winter all the girls were wearing short suede boots with fur along with their jeans (as immortalized in
FLO Rida and T-Pain's song
)
. The video doesn't have a girl with such an outfit in it, which is too bad.
And I didn't mind that. Indeed, I spent a lot of time with Cell last winter who wore that everywhere and had no complaints. BUT...This winter I am in heaven.
I don't know what it is, but almost regardless of the girl, if you put her in a pair of jeans and a high pair of boots, she turns into a sex goddess for me.
I think maybe this winter's eye candy is the payoff for having suffered through last summer's baby doll dresses.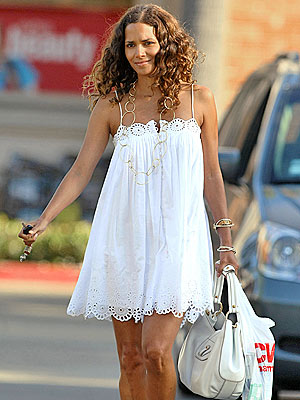 Halle B is gonna be a beauty no matter what - and ladies, so are all of you - but it was cruel of you to deprive us of the sight of your glorious waists for an entire season (which is another point, which is that we think you're way more glorious than you think you are most of the time, and we would love to see what you think you should hide). The previous year's tank tops and low cut jeans, I have no argument with at all. Feel free to break those back out this summer.
Meanwhile, thanks for what you are wearing this winter. You are making the world a better place.